Welcome to February Safari and our author flavors of the month: E.M. Forster and Karen Blixen. We are continuing our travels, sailing around the Indian Ocean, stopping in various ports of call. I'm still in India at the moment and looking forward to experiencing 1920's India through Forster's eyes in A Passage to India. At some point this month, we'll weigh anchor and sail to Africa to spend a bit of time exploring African colonialism with Blixen's Memoir Out of Africa. It would also be interesting to compare the books to the movies so be sure to check out both on Amazon or Netflix.
I have another special guest post for you this week. Jane, from Well Trained Mind 52 Books Group offered to lead the discussion this month as she has a special affinity for E.M. Forster. So, w
ithout further ado, here is Jane to tell us all about him.
************************
I suggest that the only books that influence us are those for which we are ready, and which have gone a little further down our particular path than we have yet gone ourselves. E.M. Forster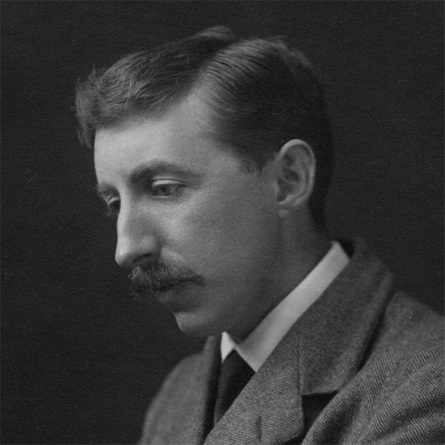 E.M. Forster
Thirty years ago or so, a friend placed a book in my hand I had not read before,
A Passage to India
. I recognized the author's name, but that was it. She had discovered the book via a film version of it released the previous year in 1984.
What neither she nor I realized was that she had introduced me to a man whose words would resonate for years to come and whose social satires would bring amusement while giving me pause.
Forster was born to middle class parents in London in 1879. Although his father died before his second birthday, a life of relative luxury was assured via an inheritance from an aunt. Forster attended Cambridge, became a writer, and toured the continent with his mother. His travels certainly influenced his writing.
Forster's first published novel was
Where Angels Fear to Tread
. Like
A Room with a View
, the novel is set in Italy and concerns a time when people did not flit off to the continent for a long weekend but often a season of travel. In Forster's novels, we often find English people who are interested in seeing other places and in learning about other cultures, but are convinced of their own moral and intellectual superiority.
If I were reading Forster for the first time, I would either start with A Passage to India or
Howards End
. Both are beautiful books. A Passage to India draws on Forster's own experiences on the sub-continent where he served as private secretary to the Maharajah of Dewas, an experience he relates in his memoir The Hills of Devi. A Passage to India is the book that I will be rereading and hope to discuss in more detail throughout the month.
Howards End may be the best choice for Austen fans who are ready to step forward into the early 20th century. The story concerns the intertwining lives of three families: one of modern aristocrats (i.e. the new capitalists), one intellectual (and perhaps a tad Bohemian) and one impoverished. Those who seek a tale of redemption will find comfort at Howards End.
Forster's point of view is so interesting to me. He writes as an outsider looking in and questioning conventions of the time; yet he has knowledge of the inside view so his perspective is not naïve or one-dimensional. It has been speculated that Forster's insight comes from his own position as a homosexual peering into conventional society. What is apparent is that he is prepared to bring hypocrisy to the forefront—sometimes gently with humor, other times with rage or with a passion that moves this reader to tears.
I have not read
Maurice
, a novel that Forster did not want published in his lifetime. It is a same-sex romance, written in the early twentieth century but not published until 1971. Forster did not attempt to have the book published while he was alive.
While researching information on Forster for this introduction, I learned that he also penned the libretto for Benjamin Britten's opera of Billy Budd. I have not watched this but a 1966 BBC version is available
here
.
For February I have pulled my copy of A Passage to India from the shelf. On the inside cover I wrote "gift from Edith, 8/85". Edith left this world too early but those years here were well spent. I am so glad that she gave me this book!
Come join me this month as we venture into the Marabar Caves to see how we shall be transformed.
**************************************************
Please link to your specific post and not your general blog link. In the Your Name field, type in your name and the name of the book in parenthesis. In the Your URL field leave a link to your specific post. If you don't have a blog, leave a comment telling us what you have been reading. Every week I will put up Mr. Linky which will close at the end of each book week. No matter what book you are reading or reviewing at the time, whether it be # 1 or # 5 or so on, link to the current week's post.